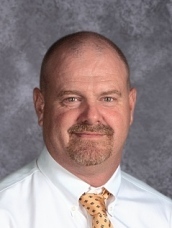 Mr. Westall
Shane Gordon
Monday, October 22, 2018
Mr. Kevin Westall:
Mr. Kevin Westall currently serves as the K-12 principal for Bluford Unit Schools. He has been employed by BUSD for three years. This school year marks Mr. Westall's 23rd year in education. He began his career as a special education teacher and taught for five years before transitioning to a Dean of Students/Athletic Director role. He has spent the last 13 years as a principal.
Mr. Westall's favorite aspect of being a principal is talking with the students about being the best person they can be. Throughout his career, his favorite moments are when students succeed in something they had previously thought was not possible.
Outside of school, Mr. Westall enjoys all things outdoors. He enjoys hunting, fishing, and farming. One thing on Mr. Westall's bucket list is to take an Alaskan Cruise.
October is National Principal's month. Principal Appreciation Day is Friday, October 26. If you see Mr. Westall, be sure to wish him well and thank him for his service to our students.